What is Racial Bias & Sensitivity Training?
Development of an inclusive workplace where your team understands, communicates with and effectively interacts with people across different cultural and ethnic backgrounds.
Why is Racial Bias Training important?
In today's social climate it is now more important than ever to instill sensitivity in your employees, students, teachers and authority figures in order to:
Improve employee retention and productivity
Build a culture that promotes respect and engages employees to be a part of the solution.
Create Cultural Awareness and Racial Sensitivity to prevent harassment and conflict. An awareness of one's own cultural worldview.
Develop a positive attitude toward cultural differences.
Create anti-bias and anti-racist practices and worldviews to create racial equity.
Through Rosann's background and expertise in academics, higher-learning, professional training, career growth, and Latin American and Caribbean history, she delivers effective racial bias and cultural sensitivity training to higher learning audiences, corporate professional organizations, and career development and educational institutions.
Rosann Santos provides:
Racial Bias-Sensitivity training in the office
Racial Bias-Sensitivity training for students
Racial Bias-Sensitivity training for teachers
Racial Bias-Sensitivity training for police officers
By facilitating self-assessment: Where am I on the continuum of becoming anti-bias and culturally proficient? Rosann creates an acceptance mindset: Wherever I am is fine; it's my effort and commitment to moving forward. Everything I learn and know about myself will influence positive interactions with others.
Rosann helps individuals and groups understand that their abilities to properly analyze and ensure their systems of cultural awareness become culturally competent and proficient. She makes it clear that Leaders must Role Model good behaviors to create a diverse and inclusive environment in the workplace free of bias and racist views.
Rosann conducts transformational workshops to encourage large groups to become

color brave

instead of

color blind

.
She is not only known for delivering deeply engaging, interactive conversations in live workshops and seminars but also for her ability to effect audiences in an online virtual environment. She is adept at transferring the energy and deeper meaning of her message into a virtual environment in a unique, effective manner.
Her personality and energy can brighten a room in even the most challenging of times. Rosann has conducted world-class social development workshops, seminars for professional staff training, and motivational, interactive conversations worldwide.
If you are searching for a one-of-a-kind

Racial Bias & Sensitivity Trainer

with the depth, gravitas, background and experience your audience needs to uplift them in challenging times like these –

search no more

.
Available for in-person or virtual training. Have Rosann create a virtual training presentation in

1080p HD

or

4K

or conduct a LIVE virtual training.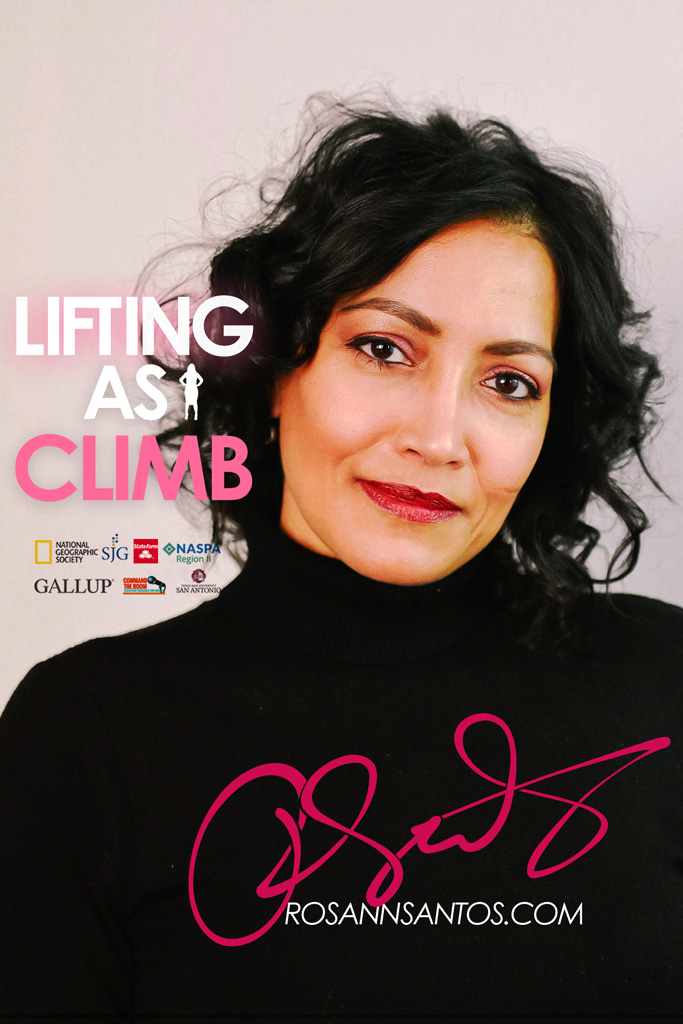 Virtual Trainer for Online Workshops

Trainer for Live Workshops

Keynote Speaker for Virtual & Live Events

StrengthsFinder:

Woo
Includer
Communication
Ideation
Arranger

Cultural Competency facilitator

Executive Presence facilitator

Director of Strategic Initiatives

Founder: Latinas in Higher Education

Hired Recently By:

National Geographic as bilingual speaker and coach
Clifton Strengths Summit as presenter
NYU Student Link Staff and CUNY Senior University Dean's Staff as Gallup Strengths Facilitator
2020 Faculty Women of Color in the Academy as virtual keynote speaker
2020 Southeastern Latinx Student Leadership Conference as virtual keynote speaker
The Bureau of Alcohol, Tobacco, Firearms and Explosives (ATF) as keynote speaker
Rosann has been hired by global organizations such as National Geographic, government agencies such as the ATF, and several professional, educational, and cultural organizations and events such as the Clifton Strengths Summit, NYU Student Link, 2020 Faculty Women of Color in the Academy, and 2020 Southeastern LatinX Student Leadership Conference.
All training workshops and one-day conferences can be developed in

English

and/or

Spanish

.
Rosann is fully bilingual in English and Spanish and ready to deliver quality Cultural Competency Training with value to audiences of all professional and education levels.
USE CODE: RBS for Special Pricing
Using this code will save you 20% of Rosann's training fee. Submit your request using the form below.
YOU'RE ALMOST THERE
Now booking for LIVE (in-person), Virtual Speaking Events and Virtual Conferences. Please fill out the form below to book Rosann for your next online speaking engagement.
TROUBLE WITH THIS FORM? Email your request to: RS@RosannSantos
Facebook • Twitter • Instagram
@RSantosSpeaks